Gents 4BB 28/9/19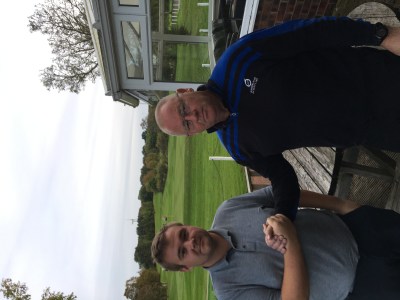 Winners of Gents 4BB 28/9/19 T Allen & D Allen (Woodham)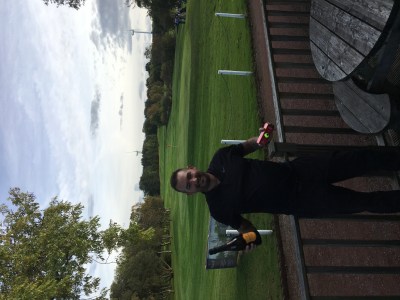 Michael Smith (Billingham) celebrates his nearest the pin prize at the 14th.
Full Results Of Our Open in this PDF File;
Gents Open results 28/9/19
Seniors Open Texas Scramble
17th September 2019 results:-
1st H Wood: D Foreman: I Cosgrove and K McDermott – Chester le Street – 57.7 points
2nd N Turner: T McMahon: K Barr and P Earl – Whitburn/Roseberry/Beamish and Knotty Hill – 58.9 points (on countback)
3rd B Tooth: A Dodds: D Corrigan and D Thomson – South Moor – 58.9 points
Best Visiting Team outside of the above prizes: M Slatcher: D Elliott: M Griffiths and P Neasham – Dinsdale – 59.6 points
Thank you all for your participation and we hope to see you again next season.
Grand final of the Heineken Breweries MacKenzie Masters Saturday 14 September 2019
Congratulations to winners of each qualifier as well as today's prize winners listed below:
1st Stuart Breckon 42pts Bishop Auckland
£75 voucher, trophy and Cleveland golf tour bag.
2nd Darren Scarr 39pts SMGC
£50 voucher
3rd Rolf Streibelt 38pts SMGC
£25 voucher
Pros sweep winners:
NP 1st D Scarr 2 course carvery for two.
NP 14th A Cunningham £20 voucher
Two 2s both by T Mossom £10 voucher each.
Raffle winners:
Dozen premium balls Craig Anderson Hobson GC.
Half Dozen premium balls Jeff Richardson.
Our Gents 4BB open takes place on Saturday September 28th with our Winter Warmer series beginning on Wednesday October 9th.
Thanks again.
SMGC
MacKenzie Masters Qualifier (4) Saturday August 17th
1st G Newton 40 pts (B9) £50 voucher
2nd S Taylor 40 pts (Bishop Auckland) £30 voucher
3rd D Bryan 38pts £20 voucher
Qualifiers:
M Osgood (Ramside) 37pts
V Raine (Crook) 35 pts
N Guy (Bishop Auckland) 34 pts
J Tomlinson 33pts
M Sibley (Eaglescliffe) 33pts
S Breckon (Bishop Auckland) 32 pts
S Jones (?) 32pts (B9)
Nearest pin 1st M Sibley £10 voucher
Nearest pin 18th A Bowren £10 voucher
There were seven twos each receiving a £10 voucher;
G Newton (x2)
D Bryan
M Osgood
V Raine
M Sibley
J Scott
Qualifiers can book their place in Septembers final by contacting the pro shop.
Thank you to all who have taken part this year, well done to those who made it through and we look forward to welcoming you all on September the 14th.
MacKenzie Masters Qualifier (3) Friday July 19th
1st S Allen 43 pts £50 voucher
2nd A Cunningham 42pts £30 voucher
3rd P Burskins 40pts £20 voucher
Qualifiers
M Ripley Blackwell Grange 38
D Scarr 38
L Harrison Roseberry Grange 38
D Vaughan 37
S Thurston 37
P Hall Roseberry Grange 37
D Tempest Houghton Le Spring GC 35 (B9)
Np 1st C Killeen (Hobson) 2 course Sunday Carvery for two at Neil's Bistro
Np 18th C Killeen (Hobson) Heineken Golf Brolly.
Seniors Open 4BBB Results 18 July 2019.
1st H Dennison / M Riley Catterick GC 47 points
2nd A Gleghorn /A Bussey South Moor GC 46 points} on c/bk
3rd G Tooke / D Spence South Moor GC 46 points} on c/bk
4th J McKernan / P Hunter Whickham GC 46 points} on c/bk
5th D Henderson / P Taylor South Moor GC 45 points} on c/bk
Best Visiting Team outside of the first five: –
R Allport / G Stokoe Stocksfield 45 points} on c/bk
Two's Competition:- 6 winners @ £12.00 each.
MacKenzie Masters Qualifier (2) 17/6/2019
Congratulations to our prizewinners and qualifiers listed below (South Moor unless stated)
1st P Davy 39pts Bishop Auckland £50 voucher
2nd G Middleton 38pts (B9) £30 voucher
3rd S Whithorn Bishop Auckland 38pts £20 voucher
Qualifiers;
S Hetherington 37pts Hobson
C Anderson 37pts Hobson
C Bancroft 36pts Houghton
S Robinson 36pts Bishop Aucland
P Davison 36pts
P Scott 36pts Newbiggin
R Streibelt 36pts (B6)
Nearest pin on the 1st Mark English (Gosforth) Two course carvery for 2
Longest drive on 18 Mark Banks (Gosforth) Heineken golf umbrella
RESULTS FOR THE SOUTH MOOR SENIORS' 4 MAN TEAM OPEN
MONDAY 13 MAY 2019
1st A Gleghorn: R Scarr: A Bussey: K Storey – South Moor – 130 points
2nd K Middleton: G Bainbridge: N Holland, D Cummings – Roseberry Grange and Brancepeth – 128 points
3rd J Slater: R Nixon: K Chapman: D Oram – South Moor
(won on countback) – 125 points
4th R McCarthy: G Long: I Phillips: R Patterson – South Moor-125 points
Best visiting team outside of the first three:
J Ayre: G Parker: N Hartley: T Thornhill – Billingham – 120 points
2s Competition: There were 4 qualifiers:
R Parmella: A Gleghorn: R Toward: K Kay who each win £14.75 through the Pro Shop.

MacKenzie Masters Qualifier (1) 11/5/19
1st D Halpin 42 pts £50 voucher
2nd M Dobson 40 pts (B9) £30 voucher
3rd A Stoker 40 pts £20 voucher
Qualifiers for the grand final in September;
D Hutchinson 39pts
P Long 37 pts
P McComb 37pts
P Clarke 37pts
G Stubbs 37pts
J Richardson 36pts (B9)
S Frost 36pts (B9)
Nearest pin on 1st M Jude 2 course carvery for two at SMGC
Nearest pin on 18th S Johnson Heineken golf umbrella
There were five twos each scoring a £10 voucher;
P Clarke
L Conway
N Irvin
D Turner
P James
Hole in one by Mark Dobson £50 voucher
Congratulations to all our prize winners and qualifiers! Our next qualifier takes place on Saturday June 15th, we look forward to welcoming you all back.
SMGC
Wednesday 1st May 2019
Winter Warmer Series 2018/2019 Final Results
A great day for golfing was reflected in the scoring in our Winter Warmer Series grand final today. Congratulations to Jeff Richardson who put
together a highly impressive 43 Stableford points to narrowly pip Tom Wilkinson by one point and Alan Harris by two. Jeff takes home the
trophy as well as the £75 first prize and further cash sweep share too.
Many thanks to all who took part in each qualifier and we hope it helped pass your Winter months a bit quicker!
1st J Richardson 43pts £75 voucher £7 sweep
2nd T Wilkinson 42pts £50 voucher £7 sweep
3rd A Harris 41pts £25 voucher £7 sweep
Three 2s £10 voucher each;
D Bryan, A Pickersgill, A Bell
Nearest pin 1st A Bell (Sunday carvery for two at Neil's Bistro)
Nearest pin 18th G Middleton (Sunday carvery for two at Neil's Bistro)
Congratulations to the winners of these super prizes!
Saturday 26th April 2019
Results from Ladies Team Open. In what turned out to be difficult conditions with rain and wind, some fantastic scores came in with teams from all over the North East and Yorkshire battled it out to compete for the Open Title.
Congratulations to the victorious team from Richmond, North Yorkshire, who commanded a top score of 78 points, pipping joint 2nd by a single point. Well done ladies. With the course in fine condition, all who entered enjoyed their visit.
The next ladies event takes place as part of a Mixed Open on the 11th August 🏌️‍♀️⛳️ you can book your space via ➡️ https://www.southmoorgc.co.uk/golf/book-a-tee-time/
Wednesday March 13th
1st P Johnson 36pts £20 voucher
2nd A J Smith 35pts (CB) £15 voucher
3rd A Pickering 35pts £10 voucher
4th G Stubbs 34pts (CB)
5th T Wilkinson 34pts (CB)
Also qualified RJ Murray 34pts (CB)
Two 2s £10 voucher each
D Bridge & R Murray
Wednesday February 13th ;
1st A Harris 41pts £20 Voucher
2nd G Armstrong £15 Voucher
3rd G Wearmouth 37pts £10 Voucher
Also qualifying;
I Stewart (Hobson)
S Hildrew
Friday December 28th Winter Warmer
1st K Simpson 43pts £20 voucher.
2nd N Irvin 37pts £15 voucher.
3rd S Frost 36pts £10 voucher
4th G Middleton 35pts (B9)
5th W Griggs (Whickham) 35pts (B9)
Wednesday November 7th Winter Warmer
D Brennan (SM)
P Baldwin (?)
R J Wright (?)
S Carr (Sharpley)
S Allen (SM)
Saturday November 3rd Winter Warmer
1st Guy Carr 37pts £20 vouchers
2nd Paul Davison 35pts £15 vouchers
3rd Jeff Richardson 34pts £10 vouchers
4th Andrew Cuddeford 33pts
5th David Bryan 32pts
Wednesday October 10th Winter Warmer
1st Adam Bell 43pts £20 voucher
2nd M Askew 42 pts £15 voucher
3rd P Soulsby 41 £10 voucher
4th A Turnbull 38pts (B9)
5th M Robinson 38pts