The link is :-
https://southmoor.intelligentgolf.co.uk/login.php
You will now be able to experience our new member website developed with intelligentgolf. This new facility is a significant step forward for South Moor Golf Club and will help us to improve our communications with you and the information to which you have access.
intelligentgolf websites and online scoring systems…

are used by a rapidly increasing number of County Unions for major amateur tournaments. Over the next few weeks and months, we will be adding information to the website and developing our use of the many features of intelligentgolf for your benefit, such as real-time course status, online sign up to competitions, etc.
In short, we plan for this to be THE place to find out what is going on at YOUR club.
igMember App:
Members can now access key club information via the intelligentgolf app, available for iPhone and Android. This will allow easy access to your competition data, upcoming games of golf and much more. There is an exciting roadmap of new features planned over the next few months, and intelligentgolf are continuing to invest and develop the app based on feedback. How to get the app? It is available in the App Store and the Google Play Store. For full instructions, go to My Golf -> Preferences and look for the link to the app. You can find much more information there.
Touch Screen: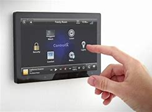 The intelligentgolf Touch Screen is different from the old system but very intuitive to use. Use your swipe card or enter the first three letters of your surname and you will be taken automatically to your very own area into which you can enter your scores. This facility also allows you to check your handicap, view competitions and review your last few results.
Please note: You will only be able to enter your own score, you will not be able to enter your playing partner's score for them. It works by lightly tapping the screen with the tip of your finger. Pressing hard or holding your finger on the screen will make no difference to how the screen responds, in fact this is the most common cause of problems with score entry.
Use your swipe card or use the 'Members' button to log in using your name and the PIN that you have set for access via the website. There is an on-screen keyboard to allow you to enter your hole-by-hole scores including 'no score at hole' for those holes you would rather forget. Stableford and Nett score calculations are performed automatically as you key them in which allows you to check your card before formally submitting it. Please take a few minutes to explore the functions of the Touch Screen when you have an opportunity.
WHAT DO YOU NEED TO DO NEXT?
Follow the 'login' instructions below. You may find that using a browser such as Edge, Mozilla Firefox or Google Chrome displays the Website better than Microsoft Internet Explorer. If you have any issues please carefully follow the instructions on the screen and if you are still unsuccessful, please contact the Office.
Once you have signed in, please go to 'My Golf' on the main menu bar and choose 'Preferences'. In this area you can add or update your contact information, change your PIN and choose your automated email preferences.
MEMBERS LOGIN INSTRUCTIONS.

To gain the full benefit of the system, access the system from the Internet. The Login Page website is a secure environment and access can only be gained by entering a valid Login and PIN. LOGIN: This is your email address or membership number. PIN: This will be set to default to a random number which is but should be changed as soon as you first log in. (This will be blank if you have previously logged in to the new website). Once you have signed in, please go to 'My Golf' on the main menu bar and choose 'Preferences'. In this area you can add or update your contact information, change your PIN and choose your automated email preferences.
Once you have checked/updated your email address, you will be able to use your email address as your Login if you would prefer. Please however note that if your email address is not unique, i.e., another member also uses it, you will have to use your membership number as the website needs to uniquely identify you. You are advised to change your PIN when you have logged in by going to 'My Golf/Preferences'. If you are having difficulty with logging in, please get in touch with the Office who will be able to help you.
Kind Regards, The Committee.